Product Introduction:
The Kejia KJ-T1200 high-temperature tube furnace uses high-purity quartz tubes as the furnace tubes, with a working temperature of 1200 ℃. The control system of this series of equipment has the characteristics of safety and reliability, simple operation, high temperature control accuracy, good insulation effect, high furnace temperature uniformity, and the ability to vacuum through the atmosphere. It is widely used in experiments and mass production in universities, research institutes, industrial and mining enterprises, etc.

Adopting a double-layer shell structure and an intelligent temperature control system with phase-shifting triggering and controllable silicon control, the furnace is made of aluminum oxide polycrystalline fiber material. There is an air cooling system between the double-layer furnace shells, which can quickly raise and lower the temperature. It has a vacuum device and can be vacuumed through the atmosphere. The vacuum pump can be selected according to the vacuum degree required by customers. The furnace has advantages such as temperature field balance, low surface temperature, fast temperature rise and fall rate, and energy conservation.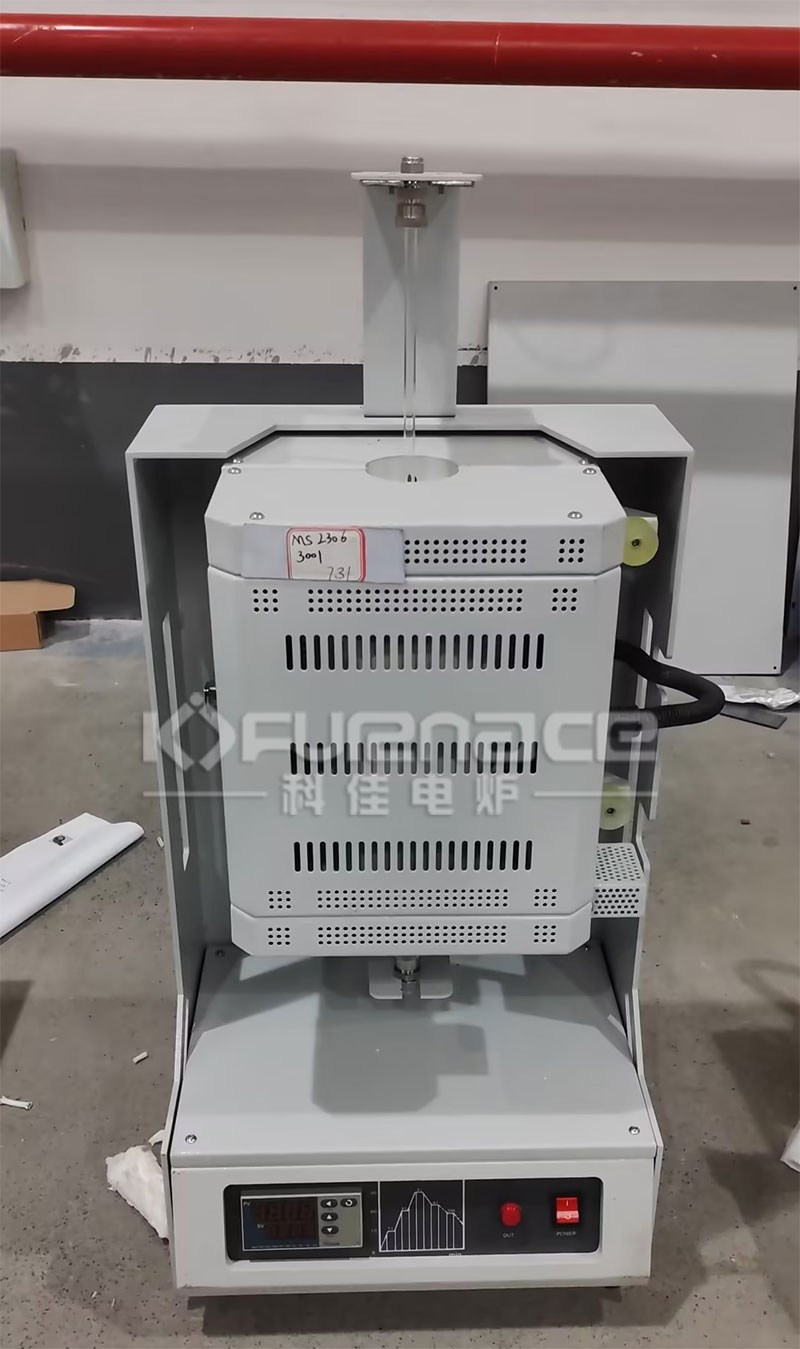 Actual photo of vertical mini tube furnace
Main product advantages:
1. The furnace adopts vacuum adsorption formed alumina polycrystalline fiber inorganic material, which has good insulation performance, durability, high tensile strength, no impurities, high purity, and obvious energy-saving effect;
2. The heating element adopts molybdenum alloy resistance wire, with a maximum heating temperature of 1200 ℃;
3. Over temperature alarm and power outage function, as well as leakage protection measures, ensure safe and reliable operation.
The main technical parameters:
Product name

Mini vertical tube furnace

Product model

KJ-TL1200-S10LK1

Maximum temperature

1200℃

Long term use temperature

≤1100℃

Furnace structure

Double shell structure, equipped with a cold air system for automatic cooling. The temperature of the furnace shell does not exceed 50 ℃

Heating rate

Recommended ≤ 10 ℃/min, with the fastest heating rate of 20 ℃/min

Furnace tube material

High purity quartz tube

Furnace material

High purity alumina polycrystalline fiber curing furnace formed by vacuum adsorption, with good insulation performance, high reflectivity, and balanced temperature field of the material

Furnace tube size

Variable diameter pipe φ 10* φ 8 * 600mm

Heating zone length

200mm

Flange

Stainless steel sealing flange, easy to disassemble, with precision needle valve installed on the flange

Temperature control system

The temperature control system adopts artificial intelligence regulation technology, with PID regulation and self tuning functions
1. PID method is used to adjust and control the temperature, and 30 temperature rise and fall programs can be set
2. Temperature control accuracy ± 1 º C
3. Equipped with over temperature protection and couple breaking protection
4. The instrument has the function of temperature self-tuning

Heating element

Molybdenum containing alloy resistance wire

Temperature measuring element

K-type thermocouple

Working power supply

AC220V,50Hz

Rated power

2KW

Air inlet and outlet

The flange contains inlet and outlet ports

Standard configuration

1 host, 1 pair of sealing flanges, 1 quartz tube, 4 sealing rings, 1 crucible hook, 1 pair of high-temperature gloves, 1 instruction manual, and 1 quality certificate warranty card

Spare parts

2 quartz tubes

Customer Site Map of Vertical Mini Tube Furnace