Product Introduction:
The whole system consists of one crucible furnace and a main rotary tube furnace with graphite sealing design, gas inlet and outlet with related valves are equipped, user can collect gas from the preheating furnace and main tube furnace. There are two different process technology according to client actual requirement. Belongs to a type of tube furnace.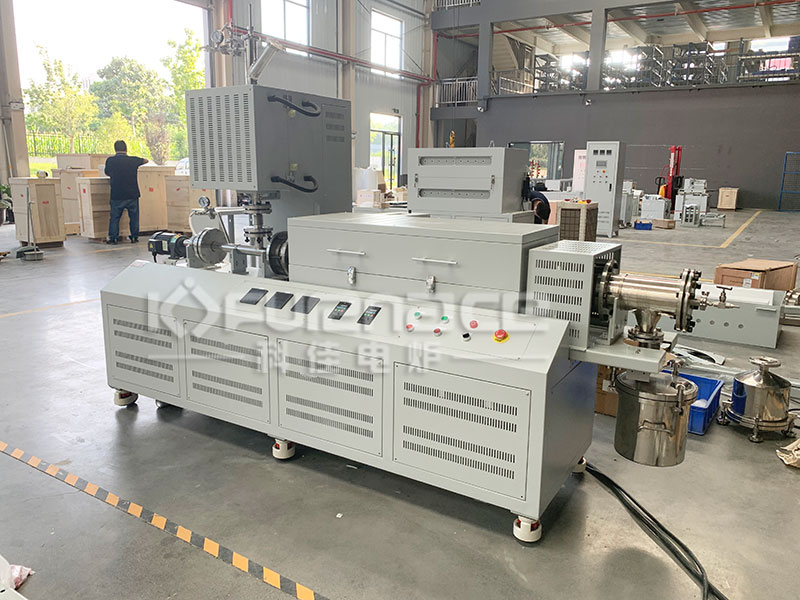 Actual photo of a three temperature zone rotary tube furnace with preheating
Equipment process:
Samples get preheated inside the crucible furnace then baffle get opened manually, sample get discharged with the screw feeder to the main rotation tube furnace and get forward continuously along with main tube rotation until to the discharged hopper, user adjust the tube rotation speed to control the resistance time. Only one 10L discharged hopper works. There are necessary thermal insulation to reduce the heat loss from the preheating furnace until to the main furnace.
The main rotation tube furnace works independently, the inclination angel is adjustable from 0°to 10°, feeding hopper and discharged hopper of 10L work together.
Main product advantages:
1.The tube is rotary & multiple heating zone design for sample uniform heating, user can also set temperature gradient according to actual need.
2.Independent temperature controller. 30 steps of programmable temperature.
3.Adjustable high precision 10L screw feeder is equipped, so the main rotary tube furnace can work independently without the preheating furnace.
4.Variable frequency motor to control tube rotation speed and screw feeder.
5.Adjust tilt angle with digital angle gauge.
6. Combined aural and visual alarm for accident of over temperature & thermocouple broken, and the power supply of the heating part will cut off automatically.
7.The whole system is sealing design with inlet & outlet valves, user can collect the gas. Ferrofluid seal for the manual baffle and screw feeder, graphite dynamic seal for two ends of the main furnace.
The main technical parameters:
Product name

Main rotary tube furnace

Preheating crucible furnace

Model

KJ-R100*900-1000

KJ-C200*300-800

Display

LED

LED

Max Continuous Working Temp.

1000℃

800℃

Tube material

310S stainless steel

310S crucible

Tube Diameter

OD100mm


OD200*H300mm


Total tube length

1400mm(for reference only)

Hot zone length

900mm

Hot zone num.

3

Single hot zone length

300mm

Angle of inclination

0~10°adjustable

Rotate speed

0~10rpm adjustable

Volume of hoppers

10L

Hoppers material

Stainless steel

Heating Rate

0~20℃/min

Thermal Control Accuracy

+/- 1℃(for high temperature state)

Heating Element

Resistance wire with Mo

Thermal Couple

K type

Working Voltage

220V 50/60HZ

Temperature Control

PID automatic control via SCR power control

Warranty

One year warranty(not include heating element and other wear parts)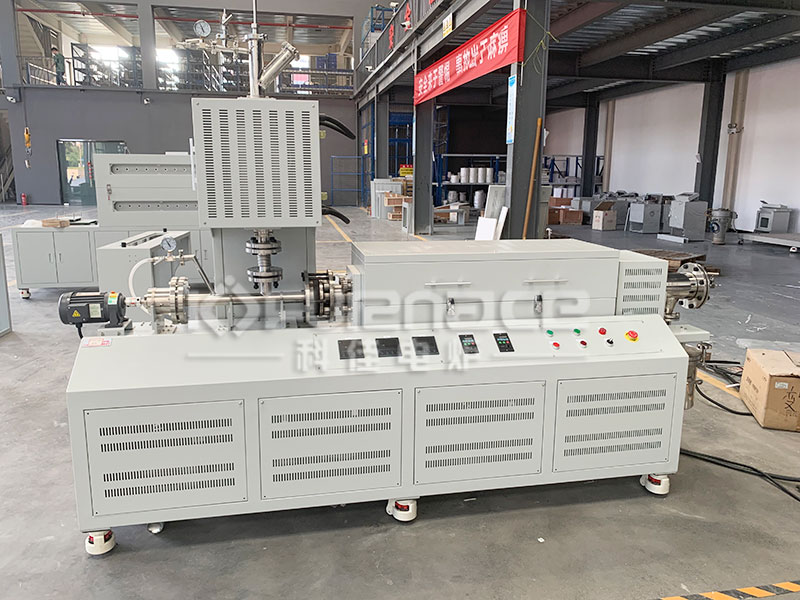 Actual photo of a three temperature zone rotary tube furnace with preheating