Product Introduction:
The 1100 ℃ vacuum tube furnace is an efficient and energy-saving new type of electric furnace developed and produced independently by introducing foreign technology. It has a reasonable double-layer shell structure with a surface temperature of less than or equal to 40 ℃, and has a beautiful and elegant appearance. It is made of cold-rolled steel plates, CNC machine tools, high-precision laser cutting machines, and CNC bending machines. The surface is treated with beautiful and luxurious two-color oxidation powder for electrostatic spraying, thus achieving long-lasting, non fading, high temperature resistance, and corrosion resistance characteristics. Because the pipe diameter size is relatively large, it belongs to a type of tube furnace.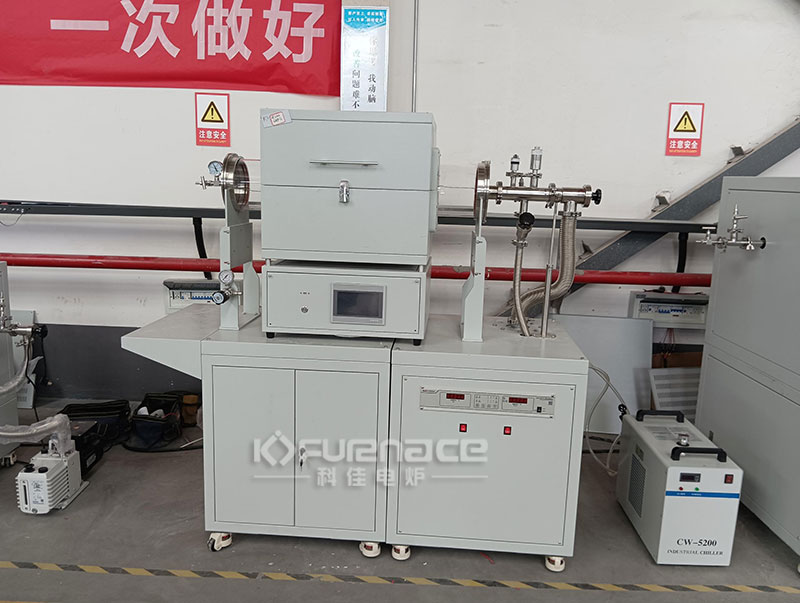 Actual photo of large caliber vacuum tube furnace
Application:
Mainly used for the preparation of rare earth, electronic lighting, crystal annealing, bioceramics, electronic ceramics, special alloys, magnetic materials, precision casting, metal heat treatment and other industrial vacuum sintering, protective atmosphere sintering, vacuum deposition, CVD experiments, material composition determination and other occasions.
Product advantages:
1. Carbon steel shell and ceramic fiber lining chamber, double layer structure, with cooling fan.
2. Good temperature uniformity.
3. Heat-resistant high-quality rubber ring sealing ensures good sealing performance.
4. Over temperature protection and alarm.
30 step programmable temperature controlled by SCR power, automatically controlled by PID.
The main technical parameters:
Structure

Carbon steel outside shell
Two layers of Alumina fiber boards
1200deg.C alumina fiber
1400deg.C alumina fiber
Cooling fans

Tube

Quartz tube OD.200mm×Len.800mm
Sealed with flanges and rubber rings

Heating zone length

440mm(Single zone)

Maximum Temperature

1200℃
(Suggestion: Lower than 1100 deg.C)

Temperature sensor

K-type Thermocouple

Temperature Control

30 steps programmable
PID automatic control
Over-heated protection

Heating Rate

0~15℃/min (suggestion: ≤10℃)

Temperature Accuracy

+/-1℃

Heating Element

Resistance wire

Working Voltage

AC 220V, Single Phase, 50 Hz

Max. Power

6.0 KW

Vacuum system

Mechanical vacuum pump
Diffusion vacuum pump

Warranty Period

1 year (Lifetime support)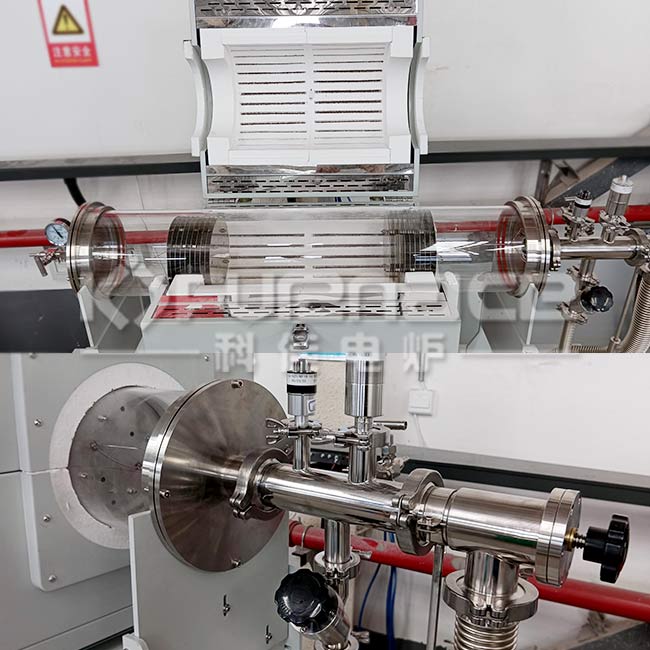 Actual photo of large caliber vacuum tube furnace